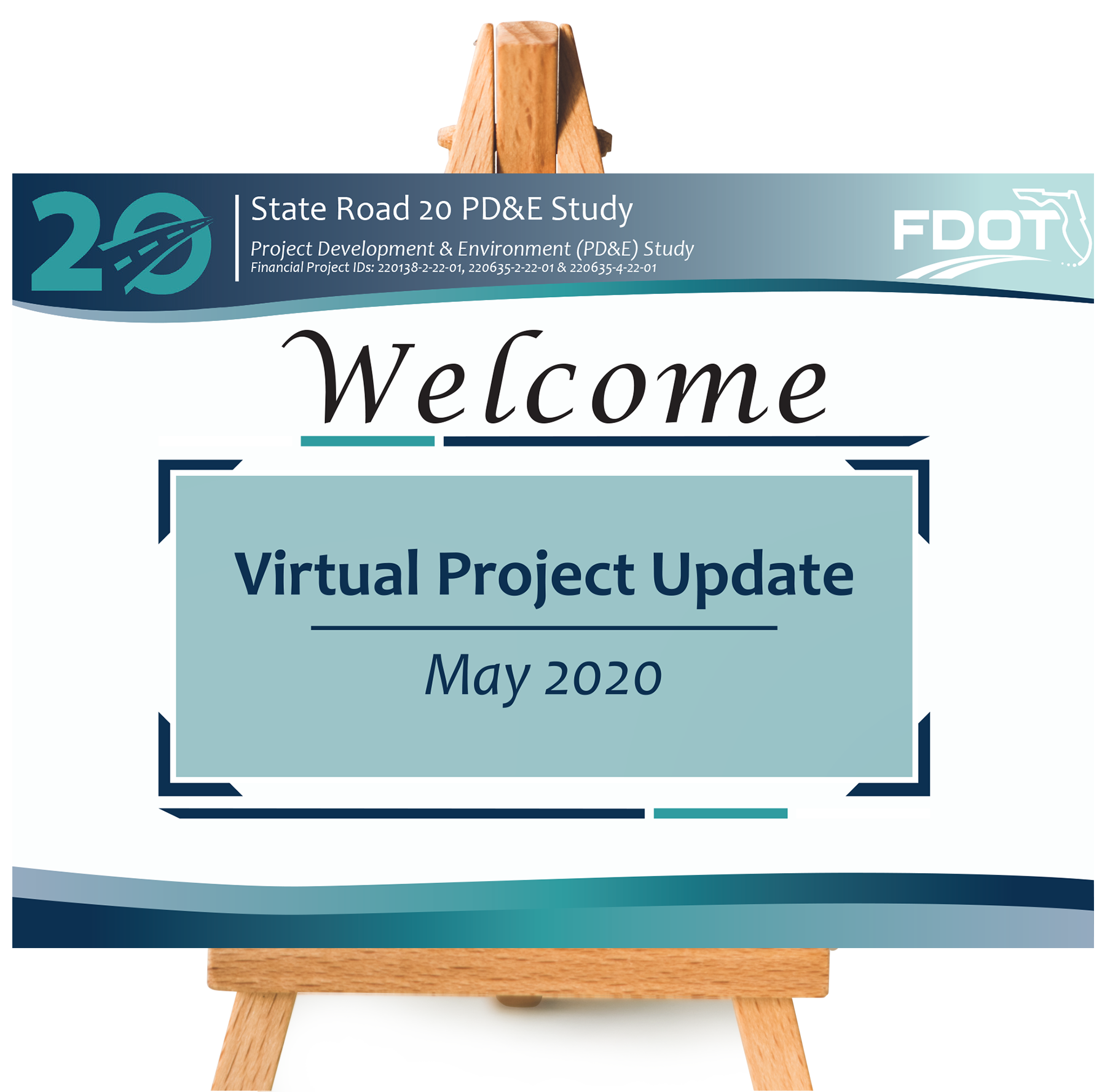 Handout
Welcome to the Virtual Project update for the State Road (S.R.) 20 Project Development and Environment (PD&E) Study
Please use your keyboard arrows or click the arrows on the left and right sides of the screen to navigate through this material. To enlarge a graphic simply click on the graphic to magnify.
To provide a comment at any point during your visit, click on the "Comment" button at the bottom of your screen.
Click below for the Project Handout.
Project Location Map
The Florida Department of Transportation (FDOT) is conducting a Project Development and Environment (PD&E) study to assess present features, consider community needs and impacts, and develop possible improvements for State Road (S.R.) 20. The project limits of the PD&E study extend from Cat Mar Road in Okaloosa County to east of S.R. 79 in Washington County, approximately 34 miles. Although the PD&E project limits extend this distance, the Build Alternative proposes improvements limited to S.R. 20 between King Road and County Road (C.R.) 3280 (Black Creek Boulevard) in Walton County.
Project Goals
Address capacity and regional mobility needs along S.R. 20
Provide multi-modal features such as bicycle and sidewalks (where appropriate)
Enhance roadway safety
Minimize social and environmental impacts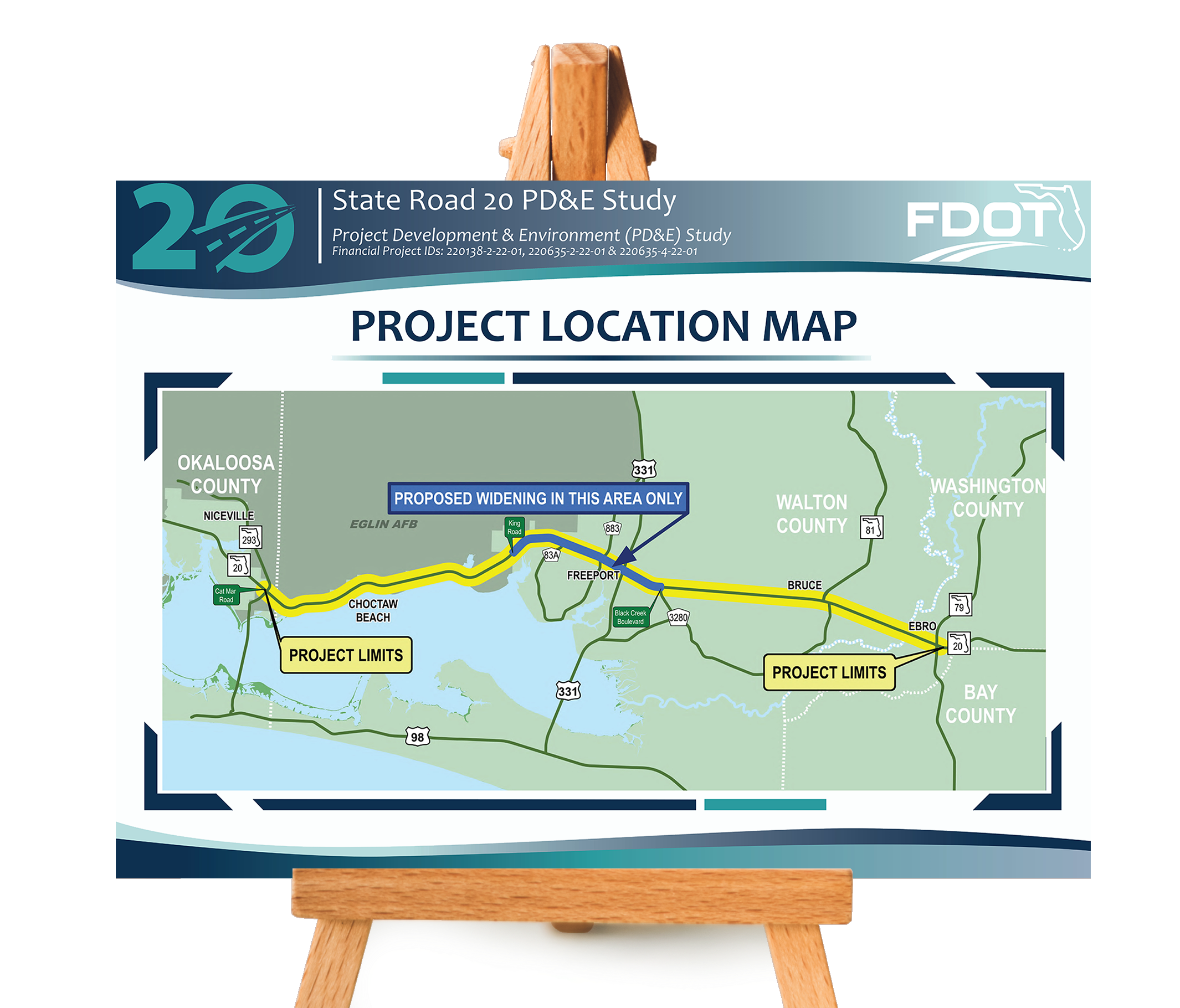 Typical Sections
Based on traffic projections conducted as part of this study, widening of S.R. 20 is only proposed from King Road to C.R. 3280 (Black Creek Boulevard). A typical section is a visual representation of what the new roadway would look like in various segments of the project. The image shows the three different typical sections that are being looked at for this project. The improvements include widening to four lanes with pedestrian features described below:
The Rural Typical from King Road to west of Blueberry Road and west of Joe Campbell Road to C.R. 3280 (Black Creek Boulevard) with on street bike lanes
Urban Typical from west of Blueberry Road to U.S. 331 with a 12-foot multi-use path and 6-foot sidewalk
Transition Typical from U.S. 331 to west of Joe Campbell Road with a 12-foot multi-use path and 5-foot sidewalk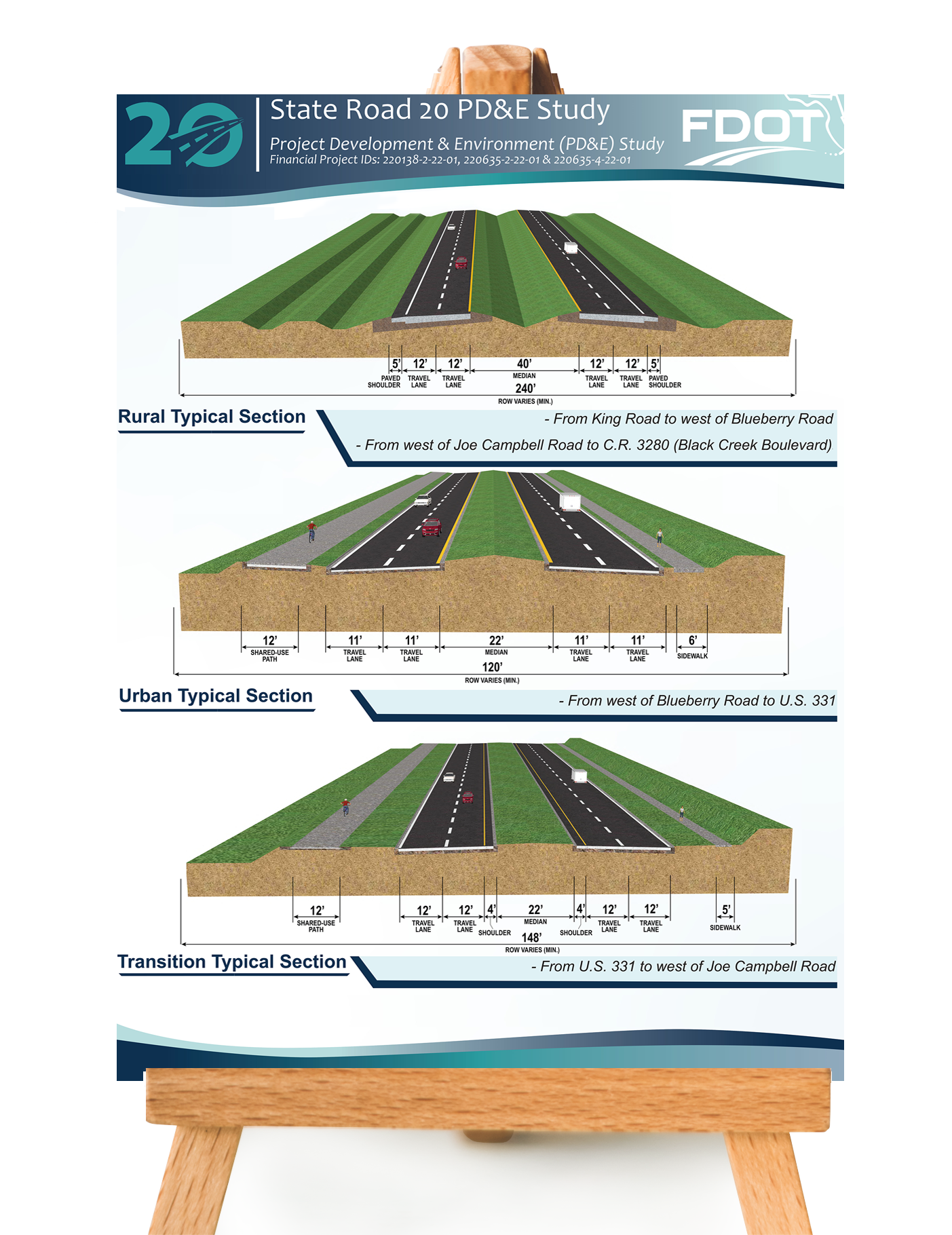 Evaluation Matrix
As a part of the PD&E process, a "best fit" Build Alternative has been developed and evaluated for potential environmental impacts, as well as its satisfaction of the project's Purpose and Need. This Evaluation Matrix summarizes the potential benefits and impacts to widening S.R. 20 between King Road and Black Creek Boulevard in Walton County. As the proposed option continues to be refined, impacts to social, environmental, cultural, and physical resources will be avoided and minimized to the extent practicable.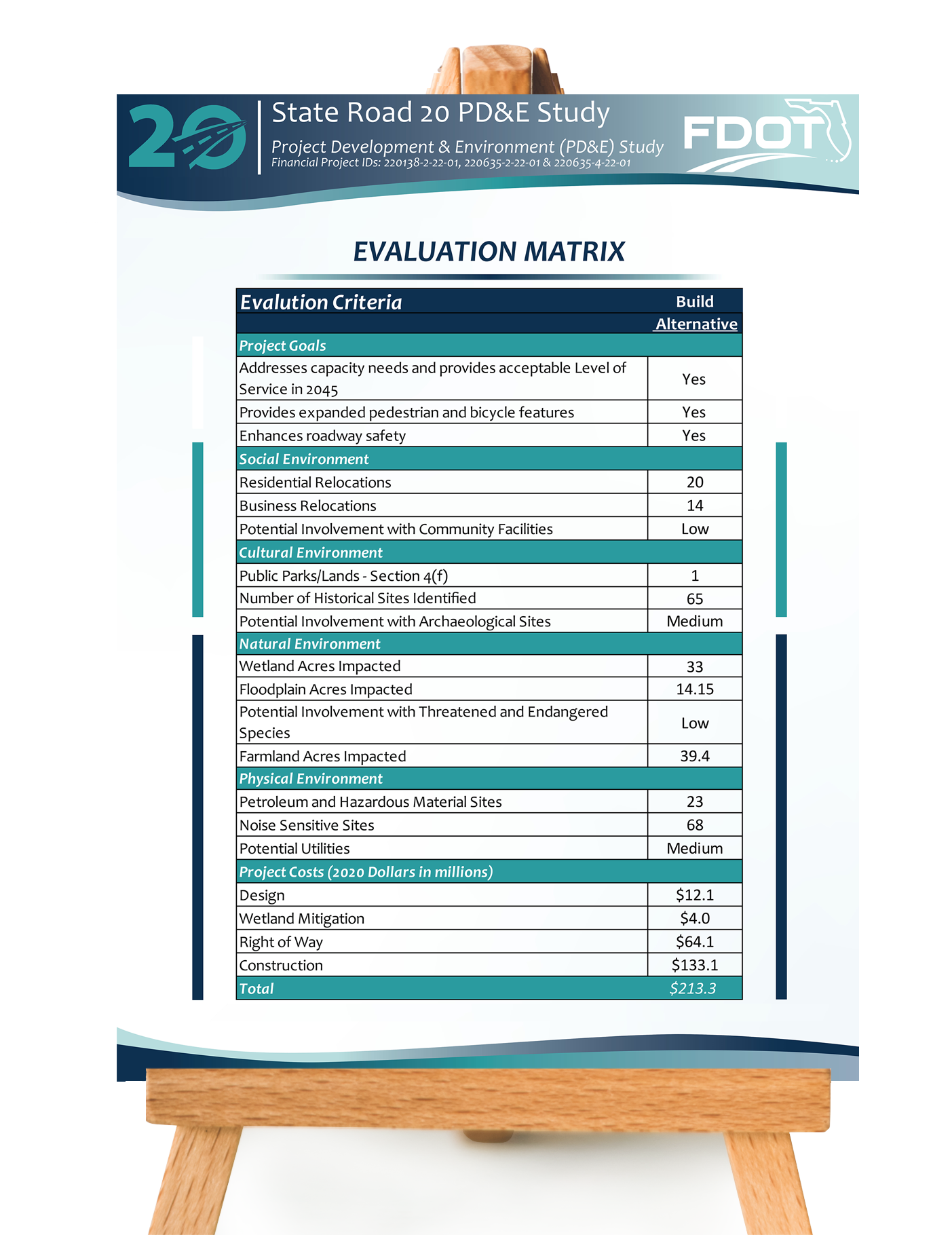 Title VI
The proposed project is being developed in accordance with the Civil Rights Act of 1964. Under Title VI of the Civil Rights Act, public participation is solicited without regard to race, color, national origin, age, sex, religion, disability or family status.
To express concern(s) relative to the Department's compliance with Title VI, please contact:
FDOT District Three Title VI Coordinator
Alicia Brininger
1074 Highway 90
Chipley, FL 32428
(888) 638-0250 ext. 1502
alicia.brininger@dot.state.fl.us

FDOT Statewide Title VI Coordinator
Jacqueline Paramore
Equal Opportunity Office
605 Suwannee Street, MS 65
Tallahassee, FL 32399-0450
(850) 414-4753
jacqueline.paramore@dot.state.fl.us